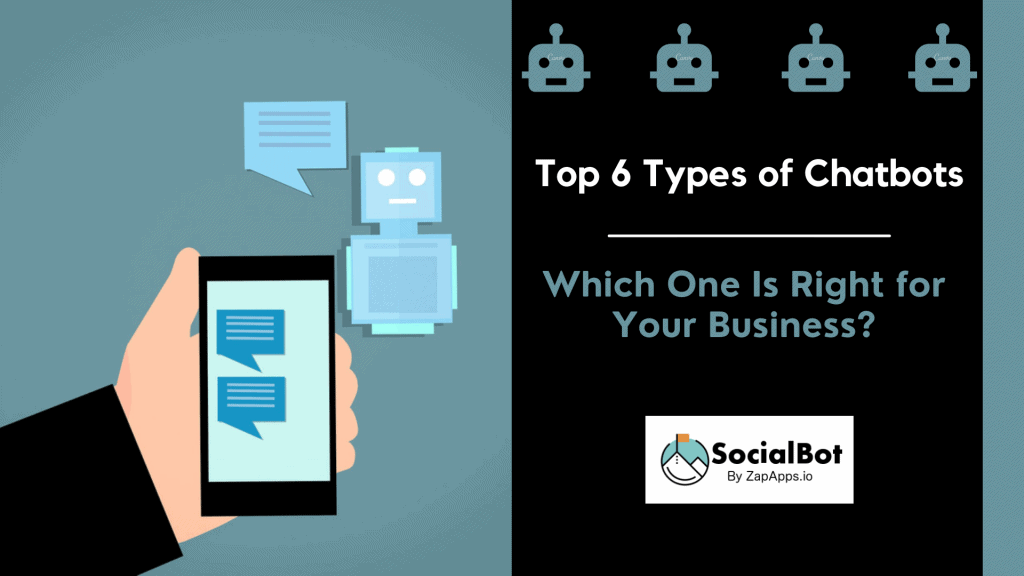 Types of Chatbots – There are tons of bots out there. Chatbots today come in all shapes and sizes and have varying levels of capabilities. Different types of chatbots benefit businesses in different ways.A good chatbot strategy starts with understanding the different types of chatbots and knowing their purpose and value. Your industry and goals should determine what kind of chatbot is right for your business. While basic chatbots may be adequate for most scenarios, some scenarios require more advanced chatbots. On the flip side, don't build an advanced chatbot with AI capabilities for a basic task. If your chatbot is merely helping users to determine which cuisine they want to have after their dinner, in that case, a simple keyword recognition chatbot will suffice. Here we have classified bots by the different ways in which they provide value to users. Let's read about their six different types:
The 6 Best Types of Chatbots That Can Improve Your Customer Service:
1. After-hours Bot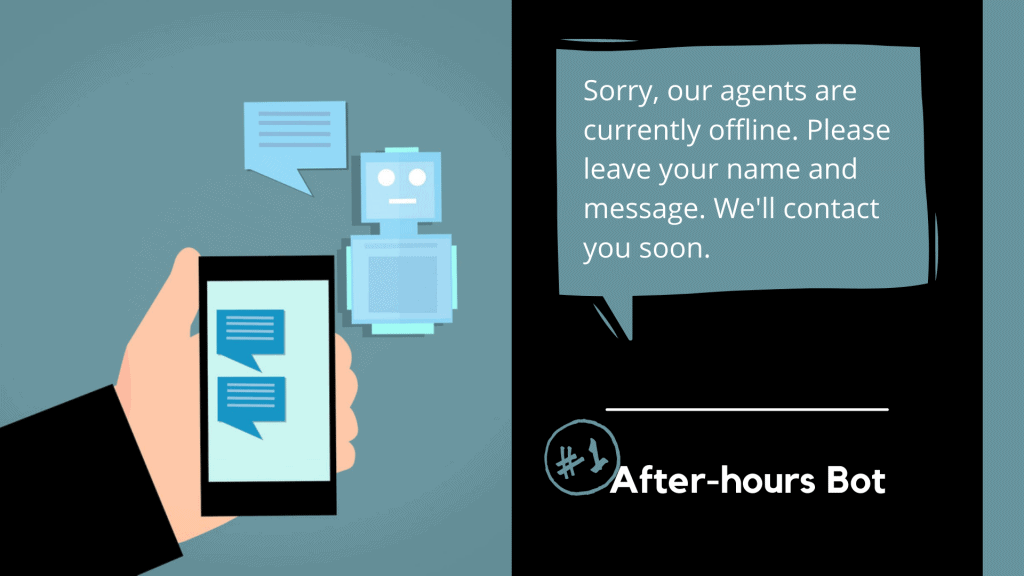 An After-hours bot is useful after the normal working or opening hours of the company. A customer can be from any time zone, and they can contact you any time of the day, even outside of business hours. If their problems are not addressed immediately, it can lead to frustration. If a customer contacts you outside the company's working hours, you can use an after-hours bot that can attend to the customer's query at any time. Even if you maintain a full-time support team that can answer all the customers' queries 24/7, you will still need the power of a bot. Your best agents can also get sick and go on unexpected holidays. Due to these unforeseen circumstances, your company will stop answering customers and leave them unattended. To prevent losing any customer, you can use an after-hours bot. An after-hours bot will inform visitors about the absence of agents and when they will be available. It can also gather customers' queries, questions, and personal details to make it easier for the company to contact them. With this information, customers don't need to revisit your website. You will have the new leads ready with you. Later on, when the agents are available, all you have to do is write them back and build a strong relationship with them.
2. Welcome Bot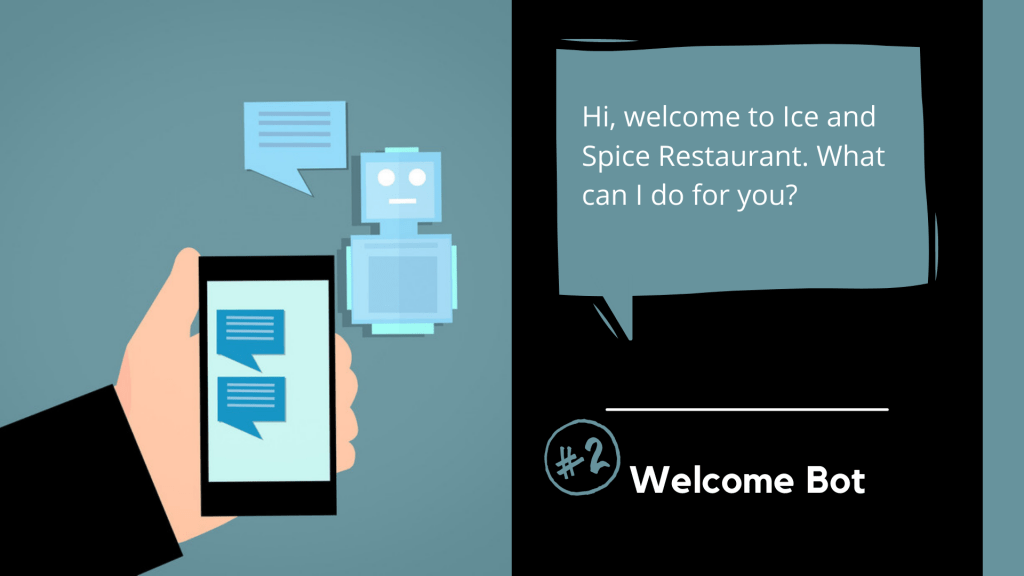 Nobody likes to do tedious and monotonous tasks. Answering to same queries in the same pattern can be a dull job for your employees. If you need to greet customers and answer their basic questions, a welcome bot can be a great aid. Not every customer requires the assistance of a human agent. Some clients just need to get the basic information. Answering a high volume of such basic questions can be time-consuming and boring. Chatbots take over a lot of tedious and repetitive tasks that people currently perform. They can send automated welcome messages to your clients and answer general queries posed by them. Chatbots also have the ability to transfer, whenever necessary, to your human support team. As a result, simple cases can be efficiently resolved by the Bot. This leaves your team with more time to focus on complicated cases and demanding clients. Reduced ticket volumes and resolution time of customer queries boost customer satisfaction. It also keeps your employees happy and motivated.
3. Lead Generation Bot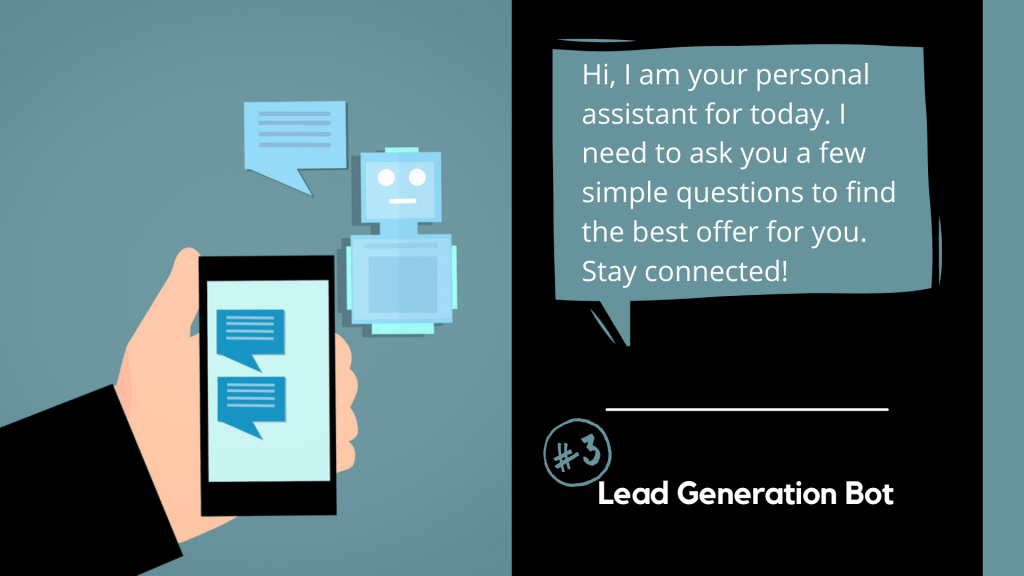 What if your Bot qualifies a visitor as a lead? Wouldn't that be amazing?
A bot's capability can be much more than just answering questions. While talking with a visitor, a lead generation bot can ask specific questions and qualify a lead person. Filling a simple contact form is outdated now. Instead of this, you can use bots as a better way to let visitors contact you. Chatbots use a preset questionnaire to persuade the visitors for lead generation. It can ask about visitors' contact details like name, email address, and product preferences, which can help the company better serve them. By deploying chatbots, you can also proactively engage your customers with personalized messaging. You can guide your customers throughout their journey, asking users what they are looking for on your website and helping them make quick decisions. For example, if you are running a hospital, your Bot can initiate a conversation by enquiring visitors about the type of medical condition they're suffering from. Further, customers can be offered various other services such as related doctors, OPD timings, and appointment-related help. If created well, bots are more likely to attract and retain a visitor. They assure high-quality leads, and the company can later reach out to such prospective clients with their marketing campaigns.
4. Survey Bot or Feedback Bot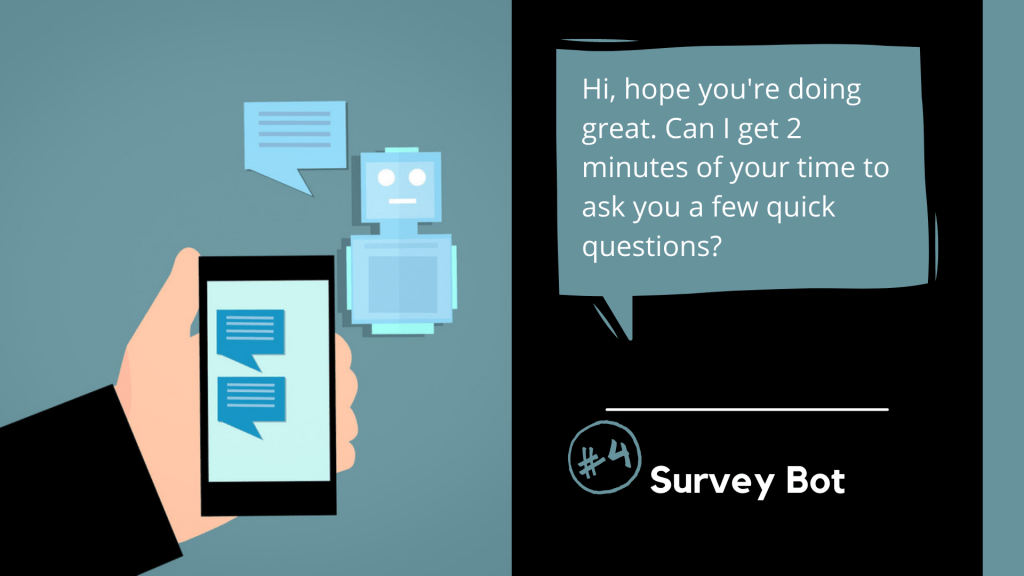 Online surveys are very important for companies to help them find out about customers' preferences. The chance of selling is proportional to the data provided by the consumer through a survey. However, customers hate surveys and tend to avoid them. Why would anybody want to devote their free time to a boring survey that won't bring them any benefit? The good news is that now you can gather feedback from customers in a much easier way using a survey bot. Reasons why a Survey Bot is superior to a typical online survey:
1. Chatbots engage users. They can have names, personalities and can be interactive. Due to this reason, while talking to a chatbot, customers feel like they are taking part in a conversation and not a boring survey.
2. Everybody hates surveys due to a pile of questions that a person has to answer in a survey. Users lose interest when they see 20 questions on their screen. However, with a chatbot, users get only one question at a time. It gets easier for them to answer it first and jump to the next one.
3. With chatbots, you can also use rich messages (like buttons, cards, and carousels) to grab users' attention. These responsive designs lure them to click the buttons and answer honestly.
4. Chatbots give consistent responses. This consistency can be used to test customer responses without bias. In comparison, answers can be biased in the case of human-to-human chats.
5. AI-powered chatbots remember conversations with users and utilize them to learn and grow over time. They have the capability to self-improve based on what users are asking for. Whereas, in the case of humans, it is hard for them to remember every part of a conversation.
Hence, a survey bot allows businesses to gain a deeper understanding of customers and improve their service strategies accordingly. With chatbots, organizations can be given feedback in a much easier way, and improvements can be planned by drawing meaningful inferences from the data.
5. Appointment Bot or Booking Bot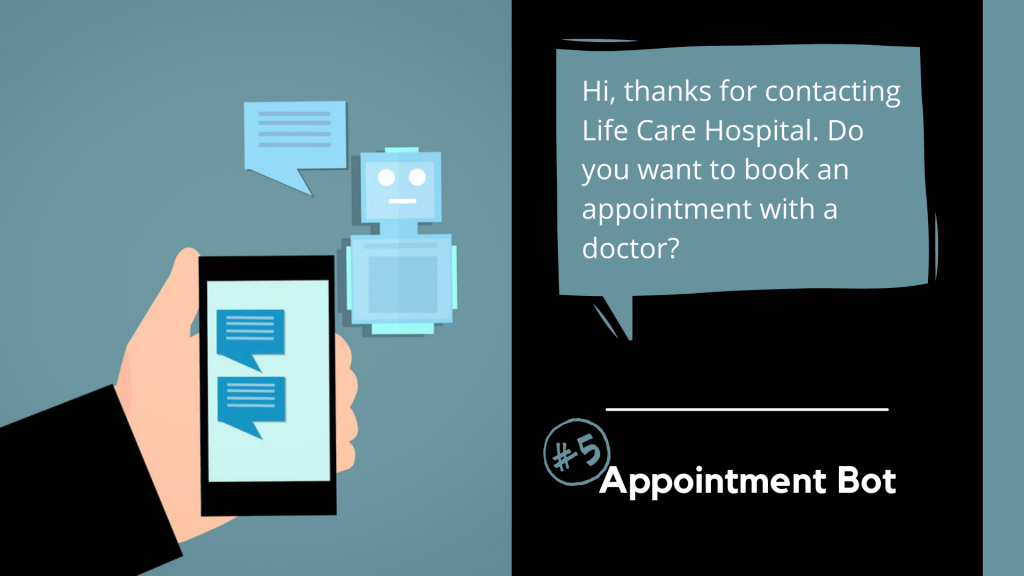 A customer needs to make appointments for various purposes, i.e., to visit a doctor, a beautician, an embassy, and many more. Booking hotels, flights, or a table at a restaurant is also very time-consuming for any customer. However, you can provide your customers with 24/7 appointment scheduling chatbots. A client might not necessarily contact you during your business hours. Moreover, they hate waiting. If you don't give them the necessary assistance at the right time, they are more likely to go to another place. It's in your best interests to instantly find time and place for your clients who wish to make an appointment. In this scenario, you can solve the problem using an appointment bot. Here's how:
1. Appointment bots make it easy for customers to book an appointment without waiting for human assistance.
2. Businesses can leverage chatbots to automate bookings of appointments so that customers can instantly book from the portal just in a few clicks.
3. They are available round the clock for the users.
4. The appointment scheduling bot saves users from the trouble of waiting in a queue to book appointments.
5. They are easy-to-use and offer simple navigation for the users to book quick appointments.
6. It can ask about customers' preferences and provide additional information that will help them to make a reservation.
In effect, your Bot will take care of the booking and scheduling part, and you can totally focus on your business duties.
6. Entertainment Bot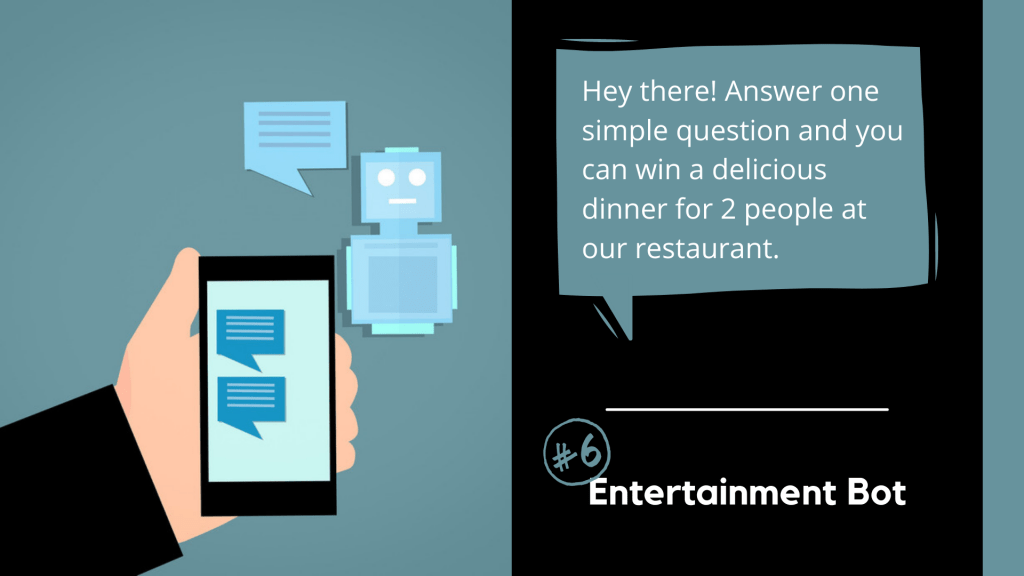 Entertainment Bot takes customer engagement to a new level. Needless to say, how important it is to keep your customers engaged with your brand. If you send them heaps of information about your products, they are not likely to read it. However, if you give them a bit of fun too, they will gain interest. Using competition bots, you can entertain your clients with brand quizzes and provide them with a bit of fun in the process. Competition bots are the best solution to engage clients on your website. When you add entertainment bots to your communication channels, it provides more outstanding options for your customers to engage with you since everybody likes fun. You can educate them about your products and company while they're solving fun quizzes. You can also offer discounts or special bonuses to happy winners. With this fun and gaming approach, you get a bigger chance to attract new customers and sell more products.
Which type of Bot is right for your business?
When deciding which chatbot is right for you, you have to put yourself in your user's place and think about the value they will receive from a specific bot. The right chatbot is the one that best fits the value proposition you're trying to convey to your users. Another thing to consider is your target user base and their UX preferences. Some users require enterprise-level AI capabilities and an open-ended experience. However, in other cases, simple menu buttons or visual menu buttons can be the perfect solution. It is, therefore, essential to first understand and identify the areas and then, start deploying chatbots. Do your research and ultimately make the best choice for your users.
Still not sure which type of Bot is right for you?
We can help you steer in the right direction. At SocialBot, our framework helps businesses to create their own type of Bot matching with their needs. Our experts have the knowledge and expertise to help you build a bot that enhances your brand and take your business to greater heights.
If you liked this article, please let us know in the comments. You're always welcome to share it on Twitter and Facebook.
Also Read: Top 10 Benefits of Using Chatbots In Customer Service