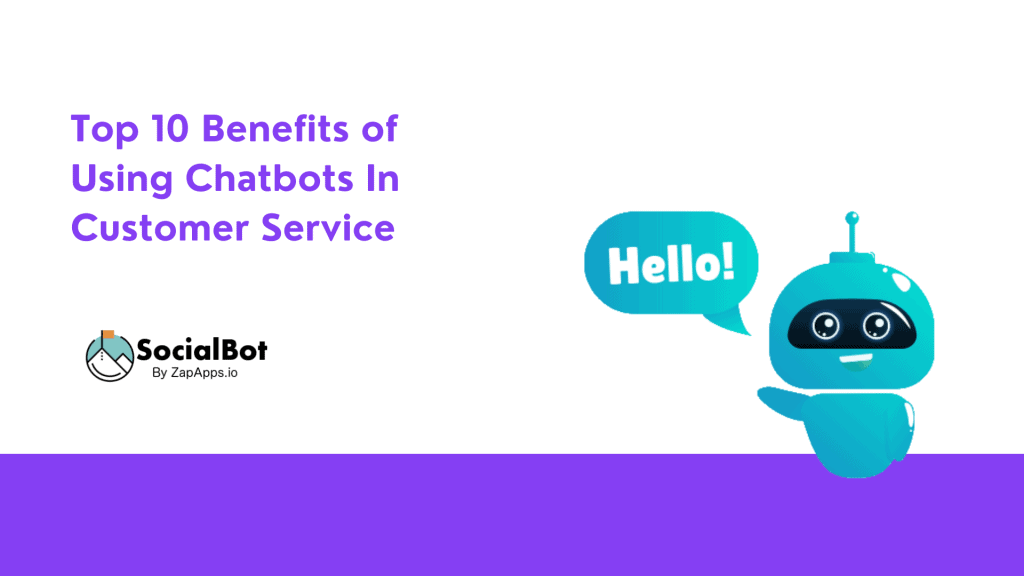 Chatbot marketing is a common expression in today's global business. With the increasing popularity of messaging and social media platforms, chatbots are now the center of business messaging. More and more businesses are adopting digital transformation to augment customer communication, and Artificial Intelligence (AI) is playing a crucial role in this. AI is now being adopted from small businesses to enterprises because of its vast array of benefits. The bottom line is chatbots are on the rise.
Growing Popularity of Chatbots
People, nowadays, are building a positive impression of chatbots. According to a study, 35% of customers want to see more companies using chatbots. Companies are also investing heavily in chatbots. The increasing importance and benefits of chatbots for businesses justify the growing popularity of chatbots. Organizations are rapidly leveraging artificial intelligence to change the way they interact with customers dramatically. According to a research report, 71% of people use chatbots to solve their problems quickly, and 53% of customers are likely to shop with businesses they can message. The rise of AI-enabled chatbots has made it possible for companies to interact with their customers in real-time and deliver a richer customer experience. According to predictions by industry professionals, chatbots will outperform mobile apps in the next few years.
Industry-Wise Adoption of Chatbots
Adoption of Chatbot Marketing is the highest in online retail or eCommerce. Both B2B and B2C customers demand 24/7 availability, instant replies, and faster resolution. Customer support is one of the critical areas in which online retailers can use conversational chatbots. Acceptance of chatbots is making its reach in the healthcare, telecommunications, and banking sector as well.
Top 10 Benefits of Using Chatbots for Your Business
Blessed by artificial intelligence and machine learning technologies, there are many significant benefits of implementing chatbots. Chatbots streamline and optimize customer experiences at every stage in the service process. They also prove to be helpful aids to customer service representatives in some technical areas. In some instances, where a query demands human intervention, these intelligent bots can recognize this and connect users to a human well-equipped to handle such questions. Your business will prefer chatbots even more once you read about these top benefits of employing chatbots. Here are ten powerful benefits of adopting chatbots for customer service:
1) 24/7 Customer Service –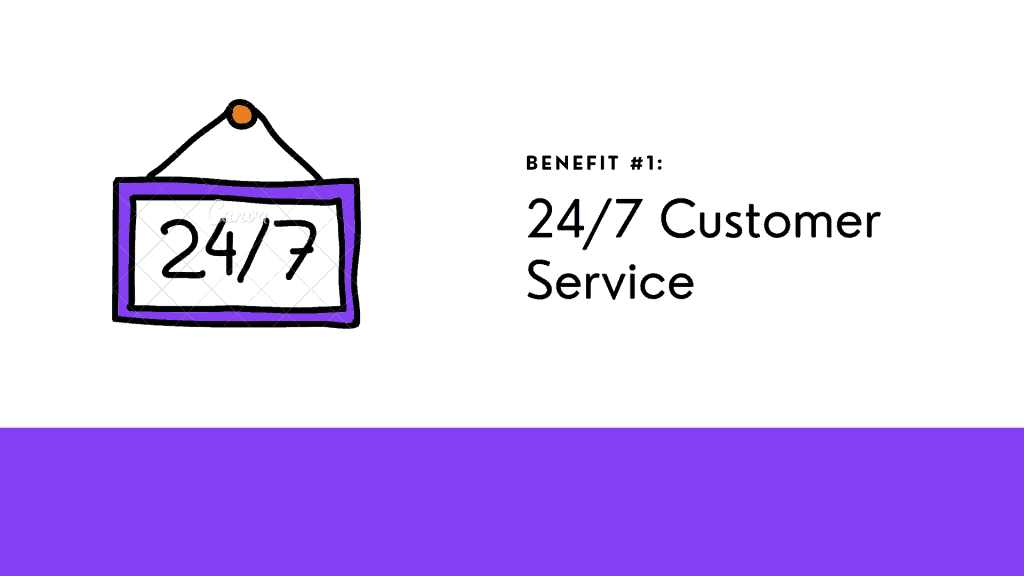 Customers' needs and queries can arise outside of business hours. If their problems are not addressed immediately, it can lead to frustration and disappointment. In such situations, bots can be a significant relief. They can engage with customers 'round the clock without any waiting time. Bots also never get tired. They can operate non-stop for 24 hours. 24/7 availability means that your business is open at all hours and ready to assist any customer in any time zone.According to studies, 64% of customers rated "24-hour customer service" as the most important chatbot feature. When customers get answers on any topic at any time, it increases satisfaction as well as customer retention for the company. This 24/7 response system brings continuous communication between the seller and the customer and leaves a positive impact on customers' minds.
2) Quick Resolution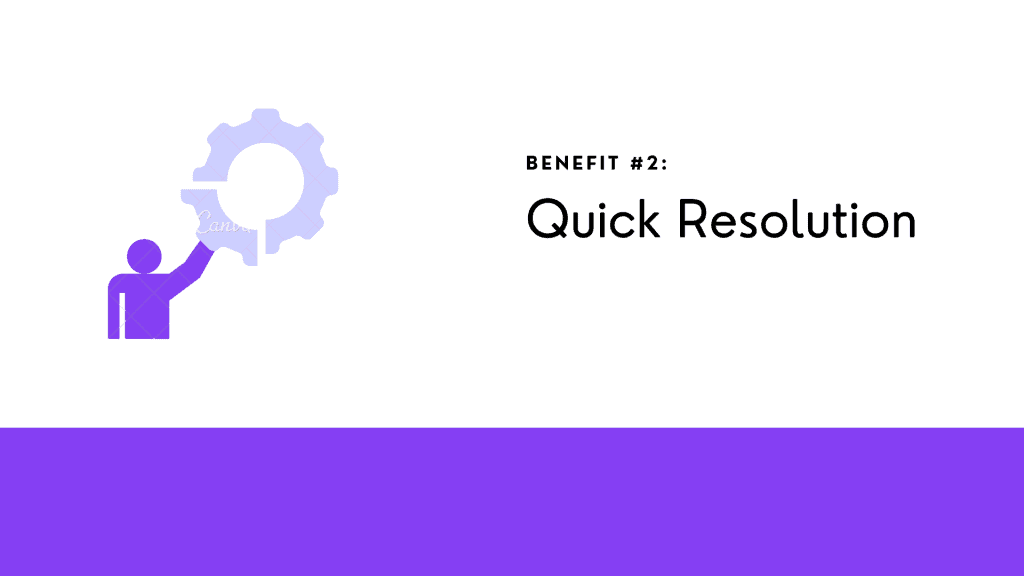 Customers feel frustrated when they have to wait for long. They want the support team to respond to their queries faster. This requires additional hiring and training of support staff to handle a large volume of queries. Still, in that situation, an operator can concentrate on one customer at a time and answer one question. However, a chatbot can answer thousands of questions at the same time. According to studies, chatbots have the potential to be almost twice as fast as voice-based support over the telephone. Chatbots offer businesses an intelligent alternative for handling high-call volumes with quick results. With the cloud's speed, internet, and software mechanisms, a chatbot can tap into a database and provide answers to questions immediately. Even if a human agent needs to intervene and give more support, chatbots cut the workload. It can sieve through massive amounts of data instantaneously and help agents find quick solutions to customers' problems.
3) Instant Response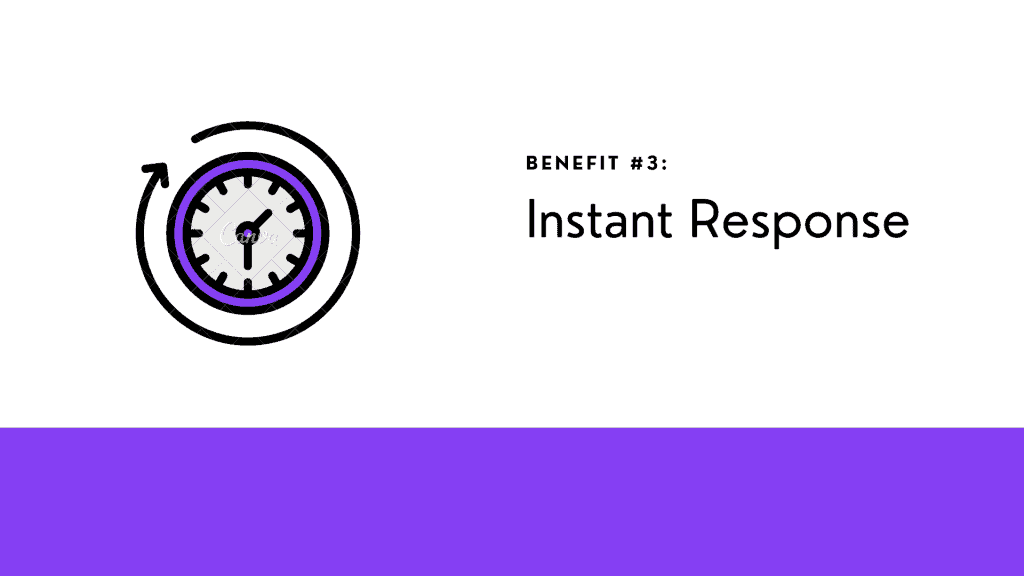 We all know that the first impression is the last impression. Thanks to AI-enabled chatbots, responses can be provided instantly. Even if chatbots can't solve a problem immediately, they can instantly respond to the customer's query. Customers do not like to wait for help. Hence, chatbots can be the first point of contact to reduce customer frustration at the initial stage. Even if a follow-up is required, the customers feel correctly taken care of because of a quick initial response.
4) Cost savings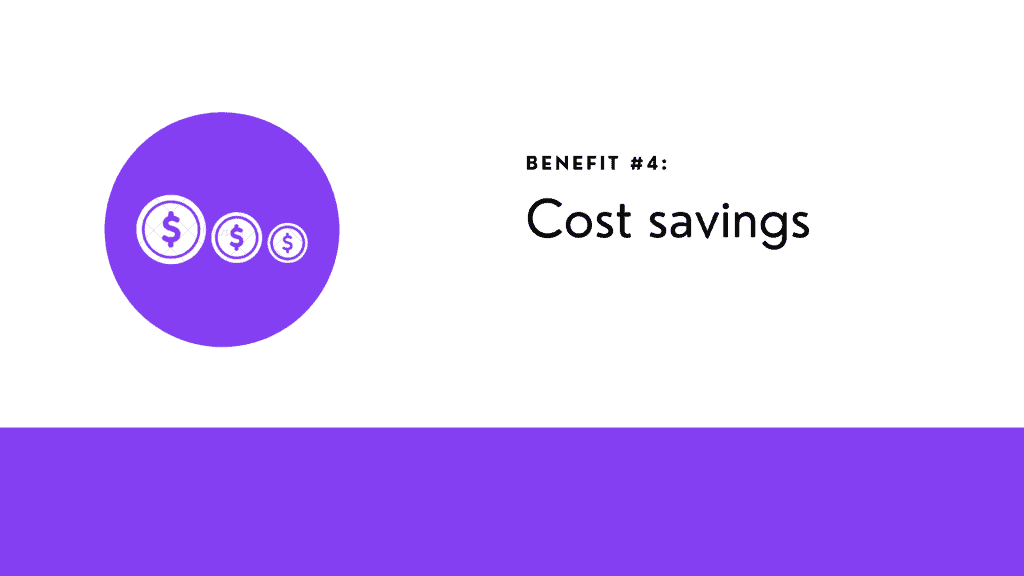 Maintaining a full-time support team that can answer all the customers' queries at all hours can be very costly. So, leaving the support work to a chatbot provides enormous savings. Chatbots reduce operational costs by reducing staffing needs. The implementation of chatbots results in a certain amount of investment costs. However, this cost is lower when compared to consumer service agents hiring costs, salary, infrastructure, and training. Also, waiting for the next available operator for minutes is a complete bummer for any customer. However, chatbots can handle thousands of customers simultaneously. Chatbots can handle tedious and repetitive tasks. When you don't have to answer repetitive and basic customer questions, this reduces customer response time and saves time and money.
5) Eliminate Human Errors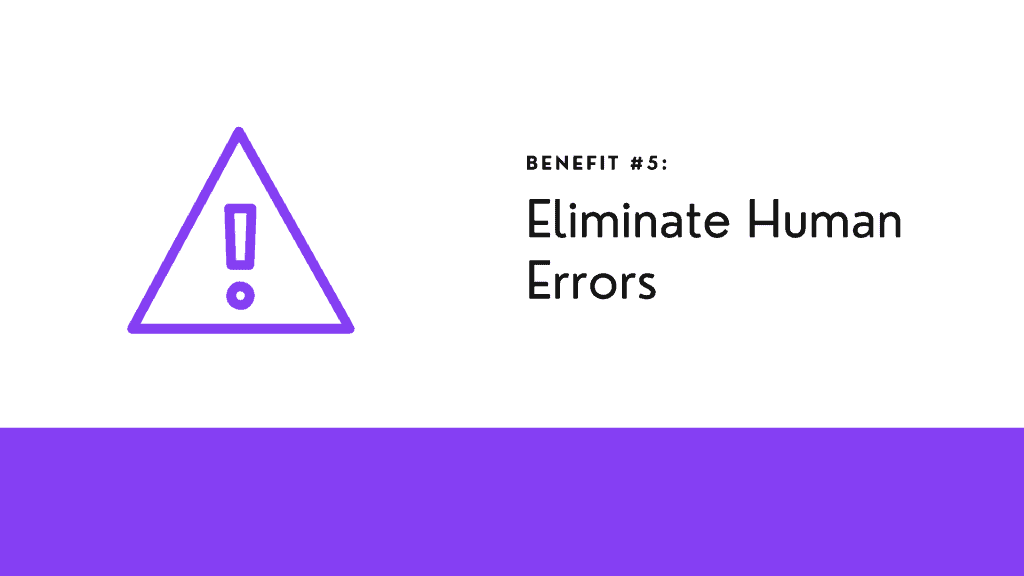 Human errors are inevitable. Manual work always has a risk of errors that can eventually result in more significant problems. Mistakes are prone to happen while collecting customer information, listening to queries, or sharing product information. In such scenarios, chatbots are the best way to deliver error-free service. There is no chance of any error with chatbots. Humans have their own limitations as well. They cannot handle more than two clients at the same time. A human agent may also forget to provide complete information to a client. He/she might show his/her irritation on the call. On the other hand, a bot can handle thousands of customers simultaneously and does not suffer from any fatigue or irritability.
6) Recorded Conversations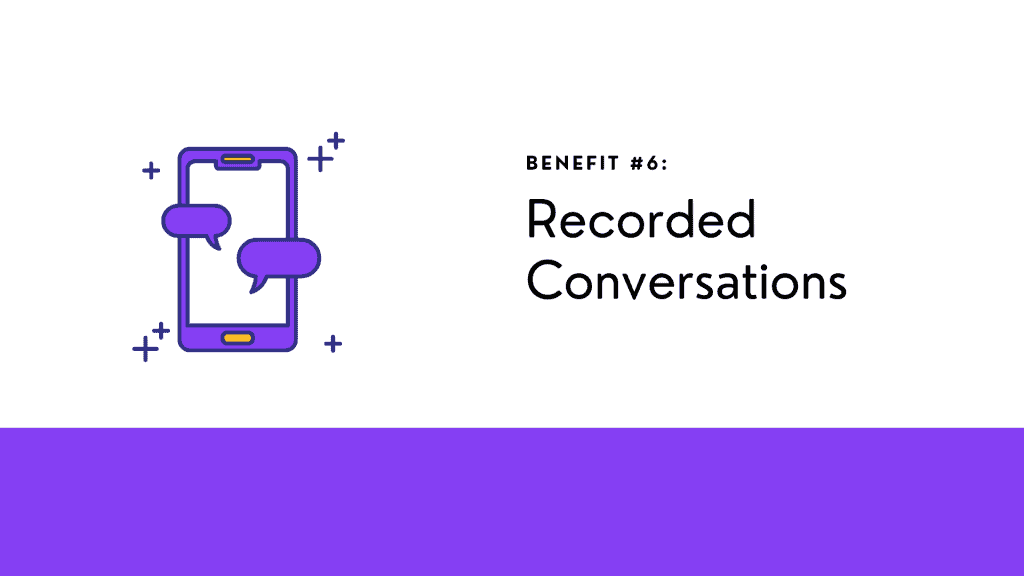 When talking to a human agent, a customer does not record the conversation for future use. However, chatbots can record a conversation and throw up detailed insights. Customers can even take screenshots whenever they like to remember the conversation. Chatbots also highlight the customers' primary concerns so that they can quickly raise a query to an answer provided by the bot.
7) Pro-active Customer Service and Better Lead Generation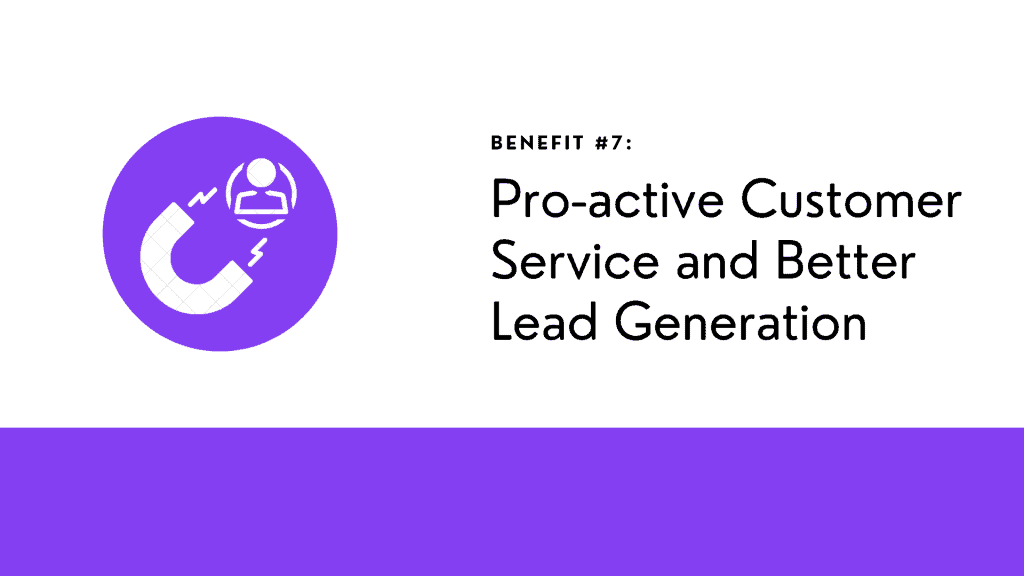 By deploying chatbots, you can proactively engage your customers with personalized messaging and provide relevant information and support to customers. Through direct messaging, you can guide your customers throughout their journey and help them in making quick decisions. For example, your chatbot can start a conversation by saying hello and asking users what specifically they are looking for on your website. Chatbots use a preset questionnaire to persuade the visitors for lead generation. For example, if you are a clothing store, your bot can initiate a conversation by enquiring a visitor about the clothing category they would like to see. Further, customers can be offered various other services such as top picks, clothing suggestions, and size-related help.
8) Better Customer Experience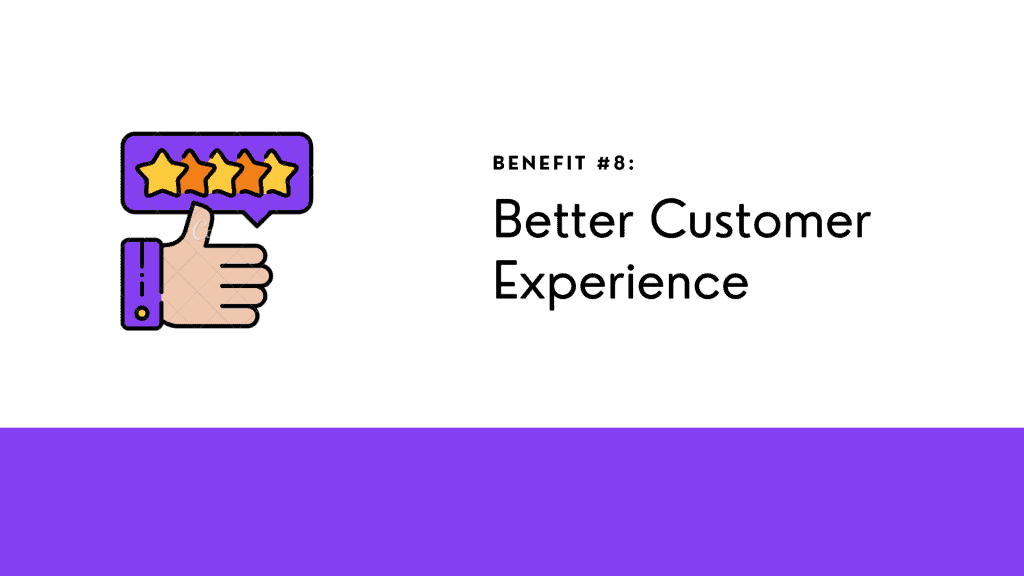 Rather than waiting for hours to connect to a customer service agent, customers nowadays prefer self-help options. They would rather prefer to find the solution to their issues independently. Chatbots facilitate this by enabling customers to solve their own issues without making any calls. With improved machine learning technology, chatbots can direct customers to answers that will clarify their doubts quickly. Customers can also gather the needed information without even scrolling through various resources on a website. AI-powered chatbots anticipate customer needs and chat with them contextually. This helps keep a high level of customer satisfaction and provides a better customer experience.
9) Endless Patience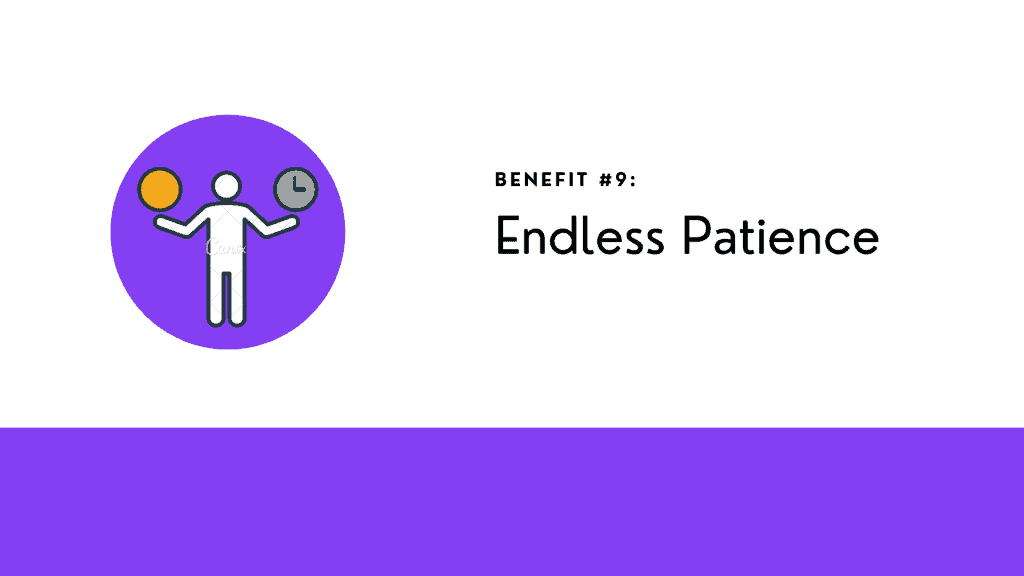 To keep consumer satisfaction high, there is a need for a higher patience level on the part of representatives. At times, customers can get frustrated or arrogant. Handling such types of customers can be dull and draining for your employees. Your employees might also get frustrated and lose their patience. In such cases, chatbots can show the patience that no human can possess. Bots can never lose patience and can never complain about any bad behavior.
10) Happy Employees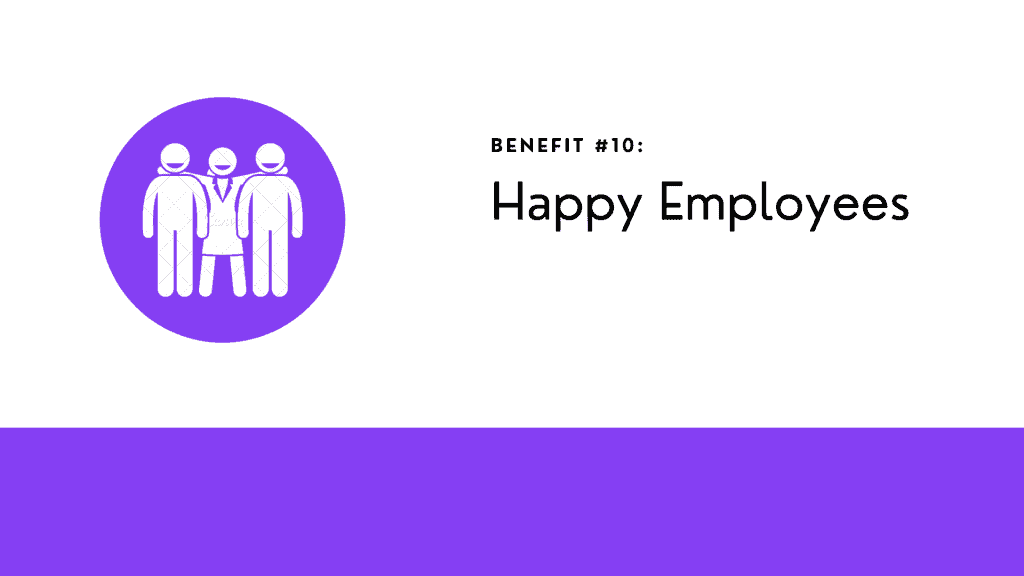 Nobody likes to repeat tedious and monotonous tasks. Answering to same queries in the same pattern can be a dull job for your employees. However, chatbots take over a lot of tedious and repetitive tasks that people currently perform. They can send automated email messages to your clients and answer general queries posed by customers. Chatbots also have the ability to pass only complicated cases and qualified leads to your human support team. This leaves your employees with more time to focus on the core aspects of your business. Reduced call volumes and tickets keep your employees happy and motivated.
Conclusion on Chatbots Benefits
Today chatbots have become invaluable tools for customer service operations. More and more customers are reporting positive experiences with Chatbots and favoring them for instant help. Customers like bots. Talking about your business, your marketing, sales, and customer service operations can all benefit from AI-powered chatbots. The key is how well your business can implement these chatbots to improve customer experience.
SocialBot
If you're planning to invest in AI-based technology such as conversational chatbots, you might be interested in checking our esteemed product – SocialBot. SocialBot helps companies eliminate tedious, time-consuming tasks, reduce customer service costs and enhance customer experience. Investing in the right technology can determine the future of your company. If you'd like to learn more about SocialBot and chatbots benefits, please feel free to get in touch with one of our experts. Sign Up Today