How to Use Google My Business to Get More Customers
A Google My Business lets you have a free online business profile feasible to any business. As it is a free profile, it is a cost-effective marketing tool for small and large businesses alike. Google automatically generates your business's GMB (Google My Business) profile, and you just have to claim it. After that, you can easily enhance your GMB profile by leveraging a wide range of built-in features.
Below is a complete guide that will show you how to get your Google Business account and make it running. Here are some offer tips also about how to get results.
List of Contents:
● Why does one need a Google My Business Account
● How to set up Google My Business
● How to get verified business on Google
● How to claim your business on Google
● How to edit one's business information on Google
● Seven steps to enhance your Google My Business profile
1. Why Does One Need a Google My Business Account?
Are you in a dilemma about needing a Google My Business account? Then, let's move on further without any procrastination.
● Be Discoverable No matter what your business is, be it an old-fashioned mortar shop or dress shop, your customers are online. And that's when they start digging their search for your company, services, and products.
If you are planning on visiting a store, online or offline. You can easily track that particular store's web traffic or foot traffic as Google is an ultimate search referrer. A Google My Business account makes sure when a user searches for your company up on Google Maps or Google Search, they find it.
Google My Business accounts help you in improving your website's local SEO. So when your audience searches for you on Google, you should appear on page one, not page two or worse.
Although you already have a web presence, the Google business account assures you to get top results. Having accounts also yields access to analytics, granting you to tweak your organic and paid advertising strategies.
● Keep Customers Informed Don't leave customers with half or tedious business details or let them guess about important business information. Also, don't let them believe the reviews on review pages where you have no control over such websites. Always keep a note when someone searches for your business. They procure legitimate reports straight from your source.
Your Google My Business listing consists of contact information, business hours, and other constitutional details. You should always let your customers know about things such as when you have expanded your services, fully reopened, temporarily closed, or opened after lockdown. Google business accounts have effective local SEO, so whatever information you share will rank above other websites.
Misinformation and false information will reduce the number of customers by giving them a bad customer experience.
Imagine how your customer will feel when they visit your store and find it closed or under construction. Or maybe your store is open, but a prospective customer chose a competitor's store as they were definite about details.
A Google My Business account will let your customers know every penny detail about your business. Similarly, you can build a budget for your business with the help of MyBusiness.
● Boost Customer Confidence A study shows that around 70% of customers are likely to visit businesses that have Google My Business Listing. One more research says that companies who have complete listings on Google are twice as likely to gain trust from customers.
According to these studies, a Google My Business profile adds more credibility to your business.
Trust consistently ranks the top in the list when it comes to purchasing decisions. The more they trust a brand, the more often they will make a purchase. People also check reviews on Google before getting into any store. Also, Google My Business reviews build trust.
For making your business trustworthy, take help with MyBusiness here.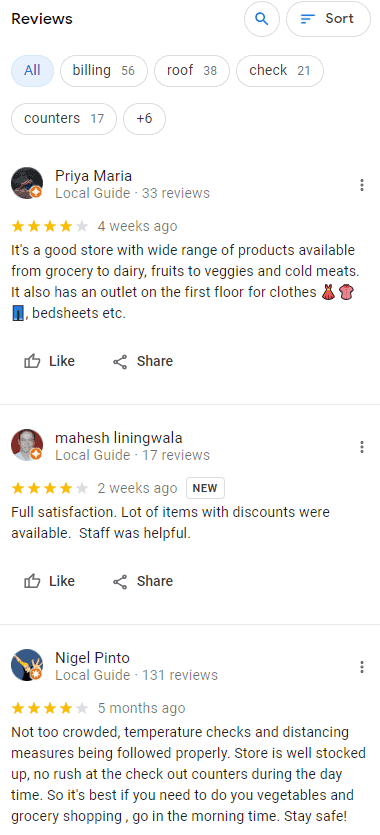 2. How to Set Up Google My Business
Under are some streamlined points to make it easy for you to create your Google My Business profile.
Step 1:
Sign in to Google My Business
Go to www.google.com/business to sign in. If you have a pre-existing account, you can log in with that account or create another one.
If you're already signed in, skip the next part.
Tip: You have to make sure that you signed up with an email of your business domain.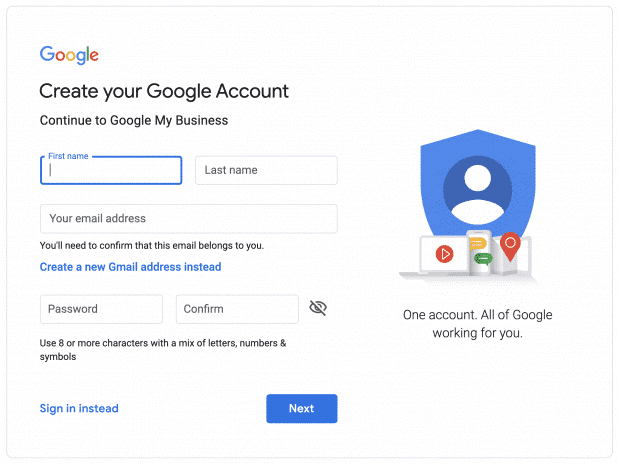 Step 2:
Add your business
Enter your business name. If it does not become available in the drop-down menu, no worries, click "Add your business to Google." By this, you can select a relevant category for your business.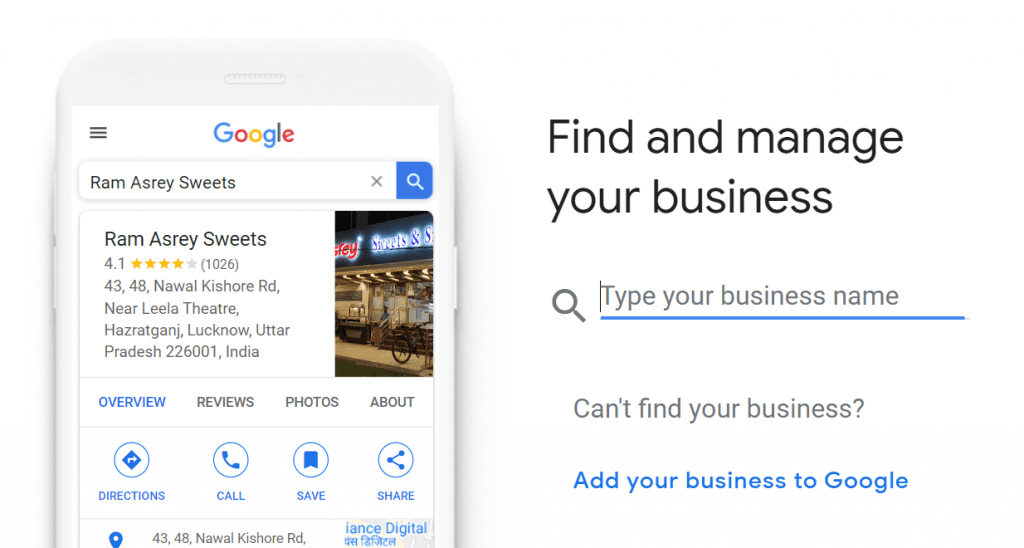 Step 3:
Submit your location
● If you have your store in a physical location then select "Yes."
● Then add your business address.
● It may also be asked to position your business on a map. Drag the marker accordingly.
Note: By any chance, you don't have a location of your business that your customers can visit, but you offer delivery and service. You can list your service area.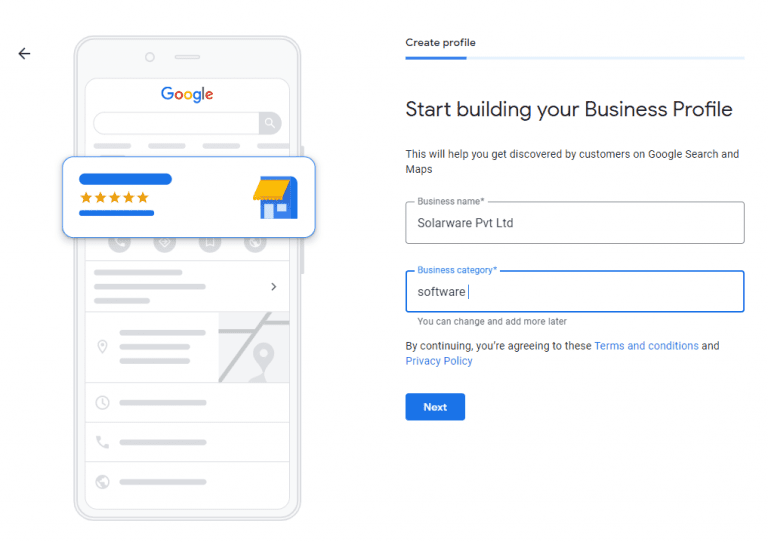 Step 4:
Fill in your contact details You can enter your business phone number and website address so that customers can effortlessly reach out to you.
If you have a Facebook page of your company, you can add that too.Tip: If you don't have a website but have a Facebook page instead, you can add that in place of a website.
Step 5:
Finish and manage your Google listing
● If you are willing to receive updates and notifications, Click Yes or else No.
● After that, click on "Finish."
● Then you will be asked for the verification of your business.
To know about the verification of business, let's move on to the next point.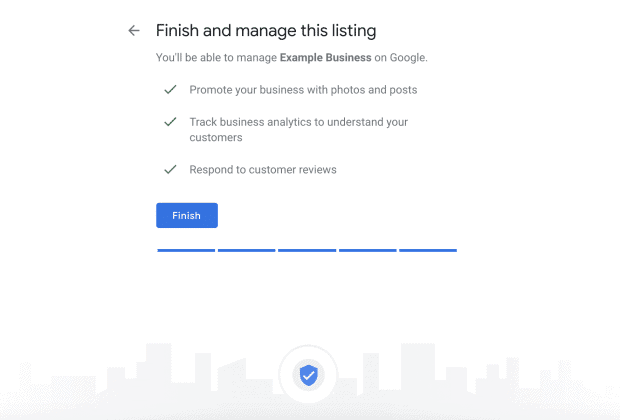 3. How to Get Verified Business on Google
Now, when your account has been set up, you need to verify your Google business.
The Google verification implicates requesting a postcard for most businesses.
Step 1:
Sign in to Google My Business
Click on the link www.google.com/business to sign in.

Step 2:
Click on Verify now Make sure you choose the correct account for verification if you have multiple Google My Business accounts.

Step 3:
Choose a way to verify Postcard By Mail is the default verification method. If your business is qualified for other options, such as phone or email, you can choose the preferable option.
● Then, fill in the required details.
● Then submit the form (before submitting the form, check twice to ensure you've entered the information correctly.)
● After submission, it will take at least two to three weeks for the postcard to arrive.
● After receiving the postcard, sign in and click Verify Location from the menu.
● Then, enter the five-digit verification code from your postcard.

Note: It may take a few weeks for your Google Business listing to get appeared on Google.
For this, you can also download My Business to create and manage your verified account.
4. How to Claim Your Business on Google
Want to claim your business on Google? Under are some methods that can help you:
Method 1:
● Log in or sign up in Google My Business.
● Start searching for your business and select it.
● Then, follow the steps to validate that you are the owner.

Method 2:
● Locate your business listing on Google Maps, and then click Manage this Listing.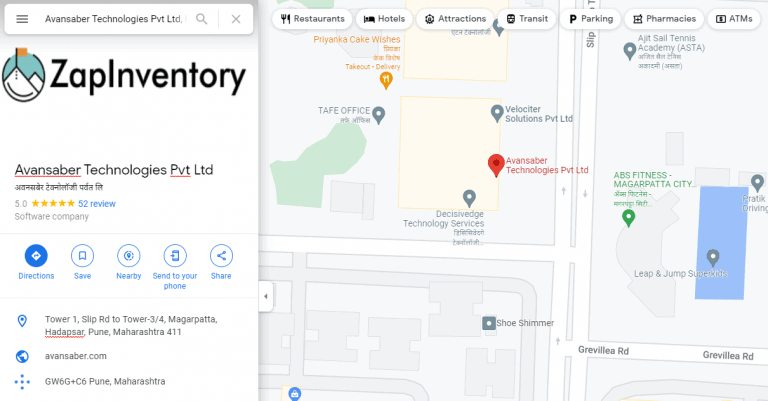 Method 3:
● Then look for your business listing in Google Search and click on Own this business?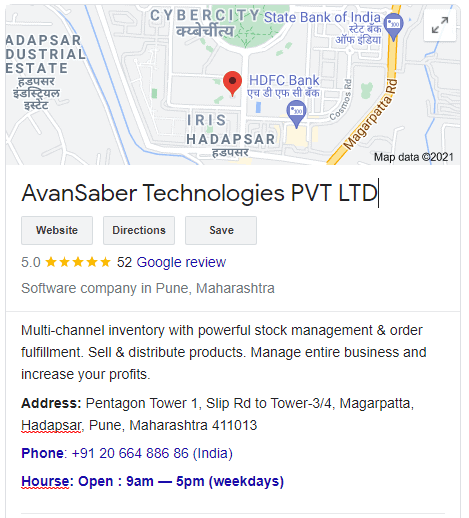 You don't have to worry about anything if the details aren't up to a point. You can easily edit it later once you've verified that you are the owner.
Note: If another person has already claimed the business and works for the same organization, you can ask them to add you as a user. If you don't identify who the owner is, then follow these same steps to reclaim your business.
5. How to Edit One's Business Information on Google
Are you looking to rewrite or edit your business details on your Google My Business profile? Jump to the steps below:● Sign in to your Google My Business profile.
● Open the location that you would like to edit or refine.
● You will see the menu on the left. Click Info in that menu.
● Start editing your information by clicking on the pencil icon.
● If you want to remove a section, then click the cross (X).
● When you are finally finished with your editing. Click on Apply.
https://www.youtube.com/watch?v=MMsFtCPy3qYIt will take up to 60 days to appear the edited part on your Google profile. There might also be some details from other sources that cannot be edited or removed.
How to add more than one location on Google My Business
If you have opened another outlet of your store and want to add location, for that follow these steps below:
1. Start by clicking on the manage locations in the left-hand menu of your Google My Business dashboard.
2. After that, click on the blue add location button on the right-hand side.
3. Click on create a new business with this name after typing your business name.
4. Fill in all the information and request for verification.
Another way to add your location is:
● Go to Google Maps.
● Drop a location pin on the area that you would like to add.
● Then, click on the add a missing place in the left menu.
● Fill in all the information.
● Finally, select claim this business.
Tip: If you have more than ten different locations, you can add them all in bulk.
Can you or can you not turn off Google reviews for your business?
The answer is No.
You cannot turn off Google reviews of your Google business listing. And also, it wouldn't look nice for your business because reviews show that your company and business are legitimate.But, you can report inappropriate reviews and flag them.
Keeping an eye on your reviews is essential. But it becomes an intricate task if you see numerous locations and Google My Business accounts. With the help of My Business, you can manage and revert to all your reviews from one streamlined accounts dashboard.
How you can mark a business or location is temporarily closed
Suppose your store is under renovation or you are planning to close it occasionally. In that case, you should keep your business temporarily closed. By doing this, customers get an idea about your store, not affecting informational search rankings.
Under are some points to mark your business as temporarily closed.
1. Sign in to Google My Business.
2. Then click on the Info in the left menu.
3. Look out for the close of this business on the Google section on the right.
4. Finally, click on the mark as temporarily closed. Note: To mark special hours for some festivals or holidays, click Info in the left menu > Special Hours.
6. Seven Steps to Enhance your Google My Business Profile
1. Fill out your whole profile
It is preeminent to provide Google with every penny detail about your business. As Google will easily match your business to customer searches. Therefore, it will improve your search rankings. For this, you should fill out details like
● Category
● Contact Information
● Address and Location
● Attributes and more make sure you use the right and relevant keywords wherever possible.
Google determines local ranking situated on these three factors:
1. Relevance: How well your Google listing matches the search.
2. Prominence: How acclaimed a business is (based on several other factors as well)
3. Distance: How far your location is from the searcher or search.
2. Start posting updates, news, and special offers
You can always keep your customers up-to-date about your business. You should create and post information to inform your customers about your business. Depending on the audience, with the help of these posts, your profile will always be engaging and drive sales.
How to Create a Post on Google
1. Sign in to Google My Business.
2. Open the location that you would like to manage.
3. From the left-hand menu, click on the Posts.
4. From the options given, choose the type of post that you would like to create.
5. Enter the accurate details in each field. It should be concise and include necessary details.
Note: Avoid commercial slang and too much punctuation (!!!!!).
6. Click on Preview to double-check the spelling and formatting.
Note: If you see any mistake and need to make an edit, click on the back arrow.
7. When you're ready with all the details, click Publish.
Tip: You can also include GIFs and videos.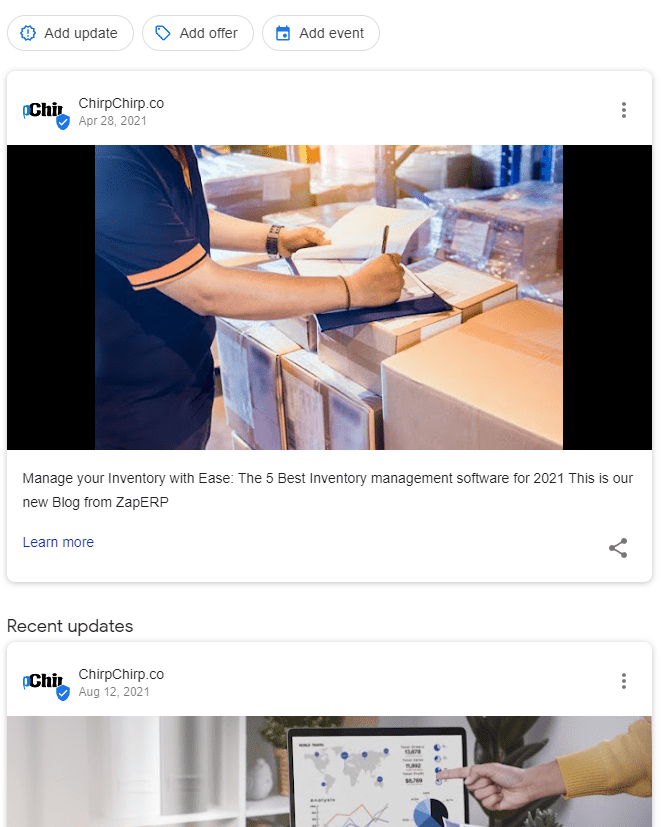 3. Standout with photos
While creating a profile on Google My Business, you must focus on adding a logo and cover image to your profile. This will help you engage more customers and traffic on your website, and it will be easy for them to recognize your brand. Also, you can add photos of your company culture, outings, products, and ambiance. Just one thing is that your pictures should look appetizing and flattering.
How You Can Add Pictures to Your Profile
● Sign in to your Google My Business profile and open the location that you want to manage.
● Click on Photos from the menu.
● Start choosing the type of photo that you would like to add.
● Either you can upload the image from your computer or select the one you've already uploaded.
4. Add Unique Attributes and Features
Depending on the chosen category, unique attributes and features are available for the Google Business accounts.If you don't find the category, you may have chosen the wrong category. Google allows you to select at least ten categories for your business.
Also, you can share factual data like there is a free Wi-Fi facility available, outdoor seating, play zone, etc.
How you Can Add or Edit Attributes and Features
● From the dashboard of your account, click on the Info.
● Look out for the additional details and select edit. Either you can search for the attribute you want to add or scroll through all the appropriate options for your business.
● Finally, click apply.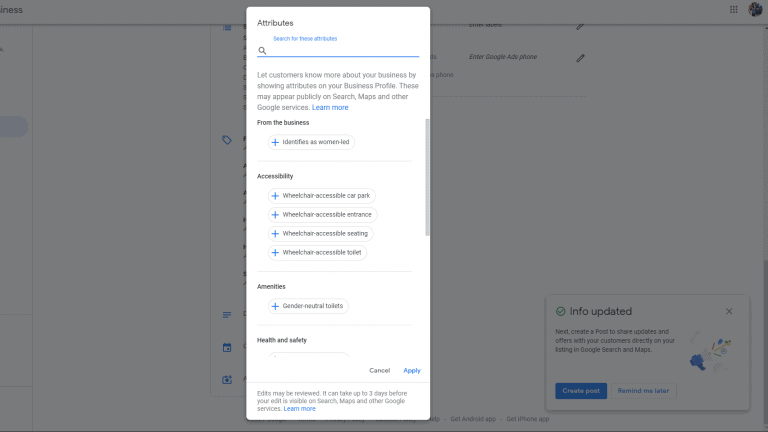 5. Motivate Customers to Leave Good Comments
Friends of friends and their friends all talk and try everything around the corner if they have heard something good about your store. With good and impactful reviews, customers will be more likely to visit often and make others visit too. Reviews also help increase your Google search ranking. Whether offline or online, you should always ask for a review. The best time to do so is after providing your customers with a great experience.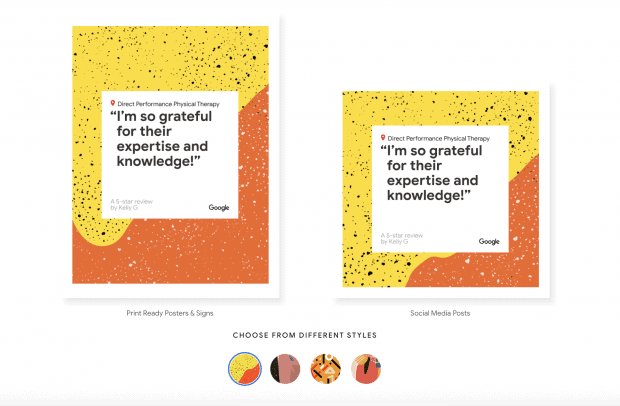 Google also offers businesses free marketing kits with printable posters, stickers, and social channel posts.Note: You should always respond to the reviews no matter if the review is good or bad. The positive and soft interactions will always help in building loyalty. Remember to respond with professionalism and respect.
6. Clarify Paid and Organic Reach with Insights
This is the advantage of the profile being on a Google My Business as it provides you with access to insights.



You can easily track how many customers search for you, click on your photos, ask for directions, and many more. Having a piece of knowledge about what photos, keywords, and actions are most trending can help you adjust your profile accordingly. And it even gives you an idea about the content you create for social media channels. Google My Business insights come with Google Ads too. By having a Google Business account, you can utilize local extensions in your ads. These Google extensions program ads with clickable location information.https://youtu.be/cO9OelOoWWAYou can pair this characteristic with insights to drive down the cost per click (CPC) and increase engagement.
7. Manage Everything in One Place with MyBusiness by ZapApps.io
Keeping positions high in various locations and businesses is demanding. According to Google, once you are a verified business, you can easily integrate your Google My Business account with MyBusiness.You can do various activities from one central dashboard like promoting company updates, keeping track of what people are commenting about your business, and reverting to reviews. For instance, if the audience is asking similar questions but on different accounts, it is worth posting an update. In that scenario, you can directly post from your MyBusiness dashboard as well.
Finishing Up
I hope you will clarify how Google My Business works and why it is essential to have an account.
My business will also give you all the features and attributes and help you drive traffic to your website. Try ZapApps services now by clicking on the following link.