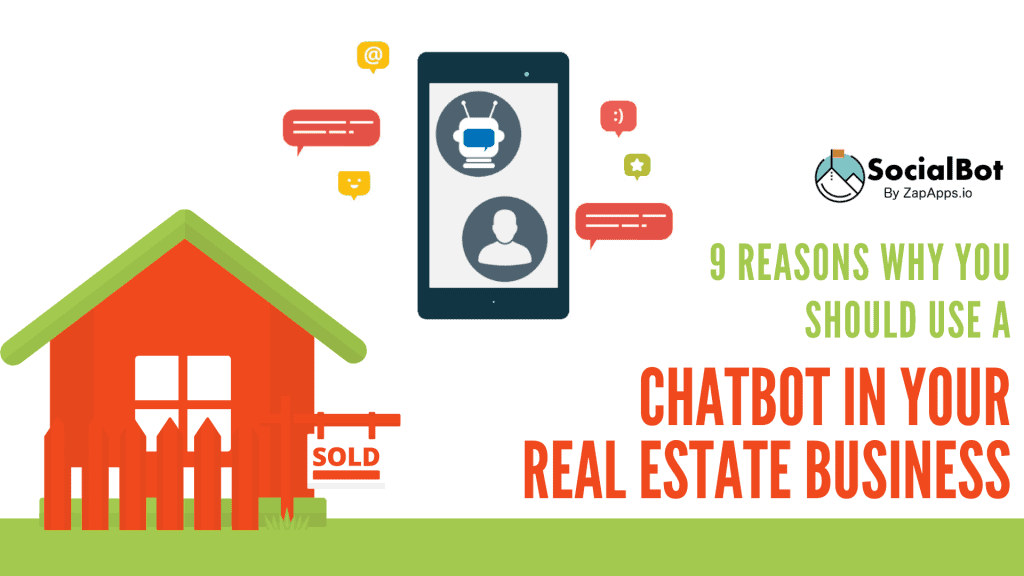 With the rise of Artificial Intelligence (AI), the use of chatbots is becoming famous all over the internet. Nowadays, chatbots are being used in a wide variety of fields, from eCommerce to Human Resource Management. Chatbots are also rapidly gaining ground in one more field, i.e., the real estate industry.The real estate business has moved online. Since the internet has simplified the search process for customers, home buyers also favor the web to look for listings. This has raised the bar for real estate companies. In the current times, the real estate sector is already reeling under the pressure of increasing competition. Now, they also have to keep pace with their competitors both offline and online. Thanks to chatbots who can handle plenty of mundane and repetitive tasks and ensure effective communication. People looking to buy, sell or rent property need immediate answers. And chatbots are designed to instantly answer users' questions. Chatbots in real estate can help realtors save resources, while answering users' queries, nurturing leads, and providing a superior customer experience. This way real estate agents can focus on what's most important in their business. In this article, you'll learn how you can streamline some of the work through chatbots in your real estate business to achieve better results.
9 Reasons Why You Should Use a Chatbot in Your Real Estate Business
1) Real-Time Enquiry
Real estate agents can't answer every call or chat from a customer. They are busy with new and old property listings, chasing their own sales goals, holding meetings, and managing past clients. You risk losing a potential customer every time a user visits your website and found no one available to answer immediately to their queries. Data shows that almost 78% of buyers prefer agents who answer them first. In such a scenario, real estate chatbots are the ultimate lifesaver. When a user lands on your website, they can immediately get their queries answered by the realtor chatbot. They do not need to wait to hear from a human agent. The real estate chatbot caters to the needs of your customer on a real-time basis.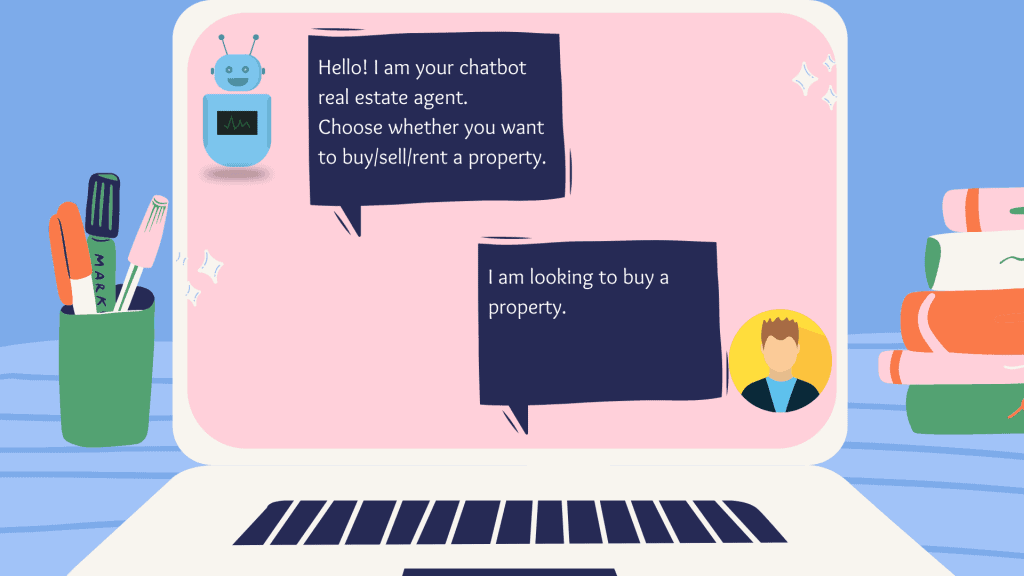 2) Available 24×7
A real estate agency can hire a team of agents who can answer prospects' queries for the day. However, customers' needs and queries can arise even outside of business hours. If their problems are not addressed immediately, they will go to another website. In such situations, bots can be a major relief. They have the ability to engage with customers 'round the clock without any waiting time. Bots also don't take breaks and can support multiple customers at the same time. They can operate non-stop for 24 hours. 24/7 availability means that your real estate business is open at all hours and ready to assist customers from any time zone.
3) Qualify leads
Chatbots can take over simple tasks from human agents such as answering common questions and collecting contact details of prospects. By using this customer interaction, you can easily determine what the customer is looking for and nurture the lead ahead. The contact details collected by chatbots can later be used by dedicated real estate agents to connect with the prospects. This whole process shortens the sales cycle. Chatbot greetings are short chat invitations that let you proactively engage website visitors. These greetings prevent users from leaving your site and engage them in the real estate sales process.
4) Collect rental applications
Gone are the days when you have to fill out long, boring forms when searching for a property. Chatbots have changed the way people search for rental listings. Prospects can now conveniently search for listings while chatting with a virtual assistant. A real estate chatbot can ask users about their aim (buy, sell or rent), price range, types of properties, timeframe, and the location they are interested in. After collecting the required information, the chatbot finds matching listings in its database and presents them to prospects immediately. Users can quickly check the given listings and if they find something interesting, they can leave their contact details so that a human agent can nurture the lead later. This whole process simplifies your customers' hunt for their ideal house/property and also helps real estate businesses to acquire digital clients much easier.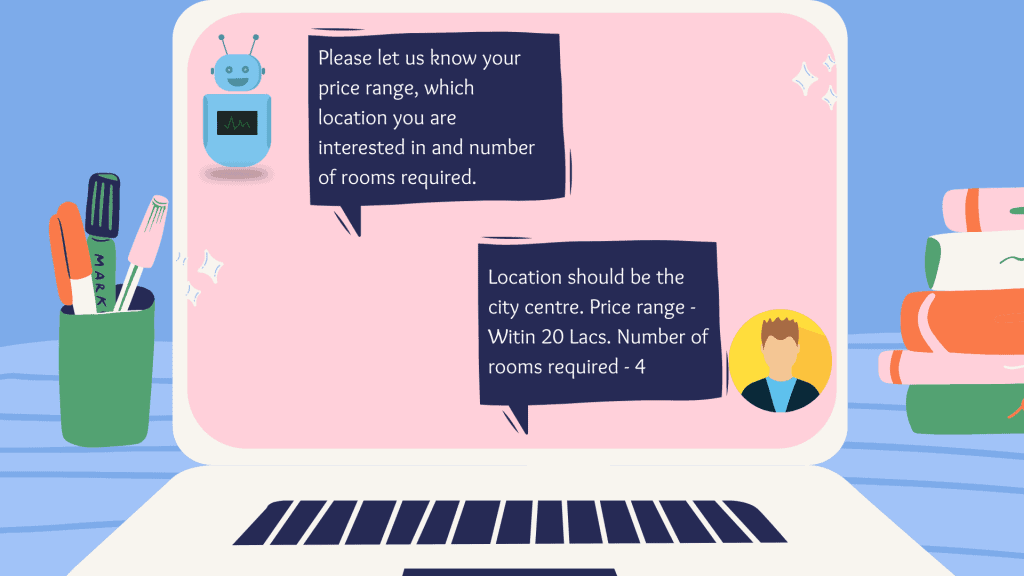 5) Schedule Meetings and Property Tours
Sometimes, a customer wants a face-to-face meeting or a property tour before taking any further decision. The problem is that a real estate agent can't engage with all of the prospects at the same time. For that, he needs to schedule meetings. A chatbot can help arrange that efficiently and agents can focus only on nurturing quality leads. After showcasing the rental listings, a chatbot can display the calendar and allow a prospect to schedule a meeting or a home tour at a convenient time. The process of scheduling site visits can be automated by syncing up with the agents' calendars. Clients can easily schedule, postpone or cancel appointments/visits with salespeople using chatbots. You can also program your chatbot to send you an email or text message every time a client makes, postpones, or cancels an appointment/visit. Additionally, the real estate chatbot can also schedule a call with the real estate agent. A chatbot can also display the phone number that lets a prospect call directly from the chat window.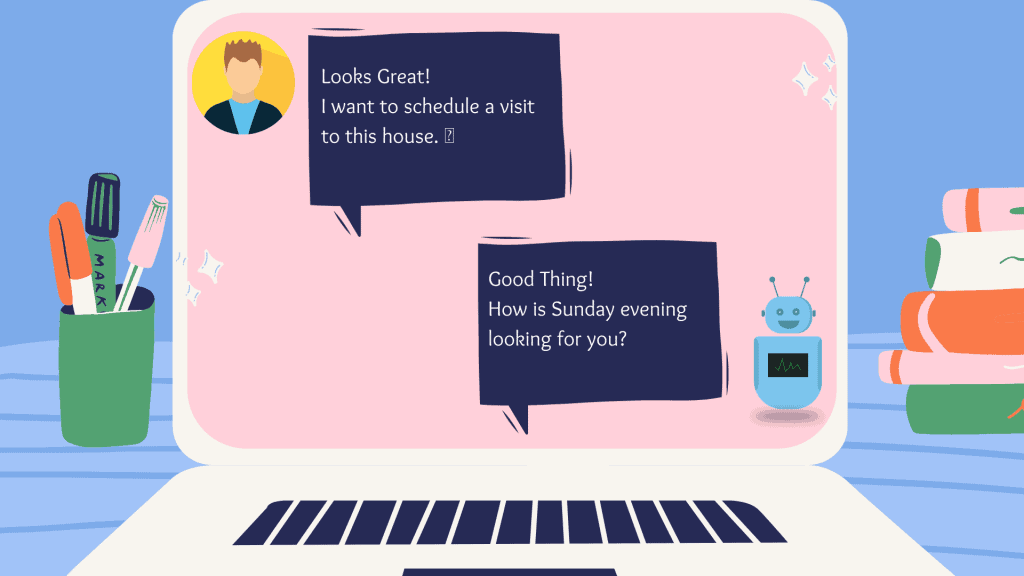 6) 360-degree Virtual Tours
If your customer is out of station or lives abroad, in such cases, chatbots can give a quick virtual tour through the bot itself. You can also pique the interest of your prospects by giving a quick 360-degree virtual tour. These virtual tours help your visitors visualize the home they want to buy/rent and move them further into the sales funnel. This gives them an idea of how the property looks and if interested, they can schedule a site visit at their convenience. 360-degree virtual tours are also useful to prospects who are too busy to see the property in person. It can convert interested prospects into ready-to-visit customers.
7) Automate Your Follow-up Process
After having a property tour/ virtual tour, clients may have more questions as they want to be sure of what they are doing before investing a huge amount of money. Real estate chatbots can be very easily utilized to automate your follow-up process. Chatbots follow up on people who are yet to be customers and ask them how they want to be contacted further. Clients can choose whether they want to be contacted via email, text messages, or call. Chatbots can hence be programmed to send automatic follow-up emails, text, or voice messages to clients. If the real estate agent wants to follow up with the lead manually, then that too is possible. Chatbots can also be programmed to automatically generate estimates and quotes.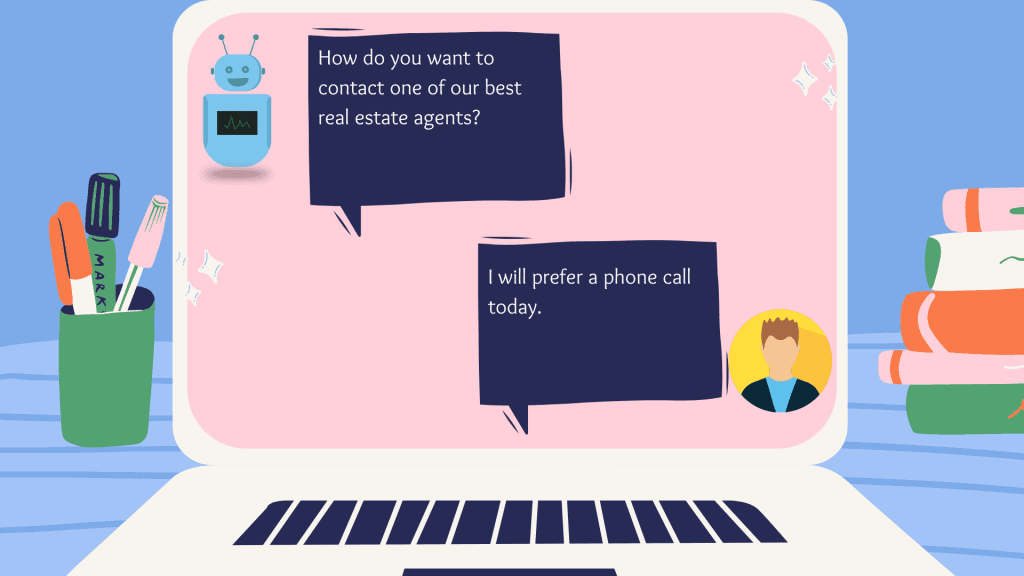 8) Recorded Conversations
With chatbots, all conversations are saved in the archives. One can keep a log of the interactions between a chatbot and a client. So, if the team tries to contact the prospect, they can easily go through the whole chatbot conversation to easily catch up with the customer's case. This comes in very handy when the human agent has to take over from the bot in certain special cases. In chatbots, customers can also take screenshots whenever they like, to remember the conversation.
9) Learn About the Market Needs and Stand Out From the Competition
It's good to showcase attractive properties through chatbots. However, everything is useless if these listings are not matching the customers' location or budget preference. That's why the first important thing is to learn the ins and outs of your real estate market. A real estate chatbot can greatly help you to learn about the market needs. While having multiple conversations every day with so many clients, chatbots can collect this data about the target audience. The information thus gathered can help determine the interests of customers – what types of properties are most often searched for, which locations are the most popular in your area, or what is the average budget of your target audience. You can also browse your competitors' listings, study demographic information and search local forums to fully understand the real estate markets. After getting a full grasp of your local market, you can tailor listings according to customers' needs and preferences. It will allow you to play your cards right and to stand out from your competitors who haven't adjusted their selling methods to changes in the market.
Other Important Benefits of Chatbots in Real Estate Business
• Chatbots can take over simple tasks from human agents such as answering common questions. This saves the time of real estate agents.
• Also, the information collected by the chatbot gives a clear idea on which lead is worth being nurtured and which is not, thereby helping you save a great deal of your time.
• Real Estate Chatbots can communicate with prospects in their language, thus breaking the communication barrier.
• Chatbots can also help you personalize your conversations. By analyzing users' inputs, chatbots are able to mimic human beings and adapt their speech.
• With chatbots, data handling becomes a lot easier for real estate agents. The information collected by chatbots can be fed directly to your CRM or database for future use.
• The younger generation is tech-savvy and prefers live chat over the phone. By deploying chatbots, you get a chance to connect with that group of customers as well.
• Chatbots can make the process of dealing in properties more fun and engaging for buyers, tenants, sellers and landlords.
Conclusion – Real Estate Chatbots
Chatbots are, hence, a win-win for both the parties — you and your customer. The widespread use of chatbots has taken the real estate business to the next level. A real estate chatbot won't replace your real estate agents. However, it can free up agents' time so they can focus on important areas. Sign Up today at SocialBot to attain impressive results in terms of generating leads, saving time, and providing excellent customer support in your real estate business. Use SocialBot's Visual Flow Builder for building a real estate chatbot. Here's a screenshot of how you can build the flow: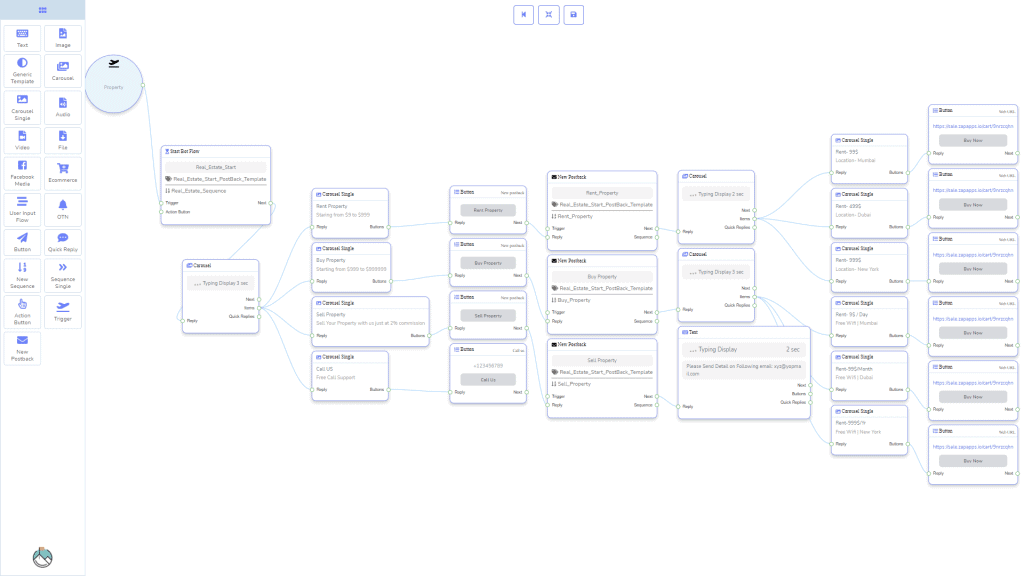 If you're new to chatbots and don't know where to start, please reach out to us at support@zaperp.com. Our team will be pleased to help you!